Wireless Electocardiography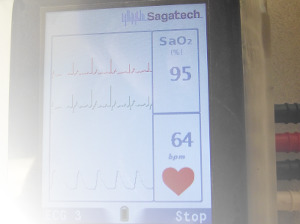 Sagatech has designed and is testing a miniature body worn electrocardiogram system with wireless real-time data transmission. The system is designed for research and athletic evaluation.
Using the system, test subjects can move freely within a large area and have electrocardiogram transmitted in real-time to a central server for automated or manual monitoring.
The small electrocardiogram device can fit within the pocket of a test subject and transmits data using standard wireless Ethernet (WiFi). Data transmission continues as long as the subject remains within the range of any number of configured WiFi hot spots. When out of range, data is stored in the device and transmitted later when connection automatically resumes.
A single server is used to collect data from any number of electrocardiogram transmitters. PC software allows a technician to monitor multiple data streams simultaneously. Data is retained in the server for later review and attachment to patient health records.
We envision the system being used in health facilities for monitoring subjects during aerobic exercise. In particular, patients recovering from heart problems or newly embarking in exercise programs may be monitored during the early phases of their programs.