Sleep Diagnostics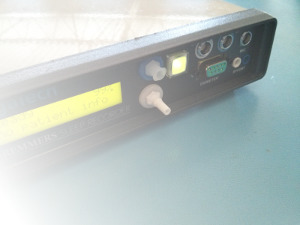 The Remmers Sleep Recorder is used to record diagnostic indicators of sleep apnea, follow up on the titration of oral dental appliances, monitor the effectiveness of CPAP therapy, and to detect periodic leg movements (1). It is manufactured and sold by SagaTech.
Convenience and Simplicity
Self-Attached
The client attaches the necessary leads and no technician or specialist need be present. The unit even provides feedback indicating that the leads are attached correctly and signals are actively processing.
Data Analysis
A Windows™-based software package is included that charts the raw sleep study data and uniquely summarizes measured events for "at a glance" views of severity.
Online Sleep Study Interpretation Service
As an option for you, this is a private, secure, account-based method of submitting and receiving your expert interpretation within days via the internet. You have 24/7 access to your patient data to view or download as you please. We manage and store the data for you.
We welcome all interpreting physicians. Let us know if you'd like to invite your physician to join our network.
The Signals
The Remmers Sleep Recorder captures the signals required to diagnose patients who are suspected of having sleep apnea. These signals are:
Blood oxygen saturation
Heart rate
Pulse amplitude
Nasal airflow (through nasal cannula pressure measurement)
Respiratory airflow (through pneumotachograph when CPAP is used)
Mask pressure (when CPAP is used)
Snoring sound
Body position
Respiratory movements
The Remmers Sleep Recorder also records electromyograms which can be used in the diagnosis of other sleep disorders.
Leg electromyograms for the diagnosis of periodic leg movements
Masseter electromyograms for the diagnosis of bruxism
Follow up CPAP studies
Reasons for a Remmers
Reputation
We're delighted with the positive opinions and respect for the Remmers and invite you to ask about the results and reliability of our product.
Track record
The Remmers Sleep Recorder was the first portable diagnostic device to be routinely used in sleep medicine. We've been providing to hospitals, clinics, dental offices and home care companies ever since.
Results
Our validated sensors and diagnostic algorithms ensure you accomplish your scheduled sleep studies. The raw data display, format flexibilities and summary sheet are valued features. Our analysis software Includes both automatic and interactive scoring capability.
Product Design
Our low failure rate and durable enclosure ensures many years of nightly, trouble-free operation.
Cost Effective
Since the disposables cost only a few dollars per study, you do not incur onerous costs when using the Remmers. The sleep recorder, analysis software and sensors are all included in the base price.
Versatility
Use it for the initial diagnosis and follow-up studies on oral appliance or CPAP treatments. Your patients can rely on you for all their diagnostic and treatment needs.
Rent to Own
Have the Remmers for a low monthly cost. We want you to get familiar with the Remmers and experience the value without a full, upfront cost obligation.
Physical Description
Technical Characteristics
Memory Capacity - enough for two nights
SpO2 Accuracy Using the Nonin Adult Flex Sensor (8000J-3) 70 -100%. In this range, accuracy is ± 2 percentage points Below 70%, accuracy is not specified
Pulse Rate Accuracy ±3% ±1 digit over the range of 18 to 300 beats per minute
Nasal prongs record respiratory airflow in diagnostic studies.
An in-line pneumotachograph measures respiratory airflow during treatment studies. Two bioelectric channels are provided for use in recording electromyograms of leg muscles or the masseters.
Electrical Characteristics
Power Supply Requirements Supplied AC Adapter: Voltage In 100-240 VAC, 50-60 Hz Voltage Out 5 VDC, 500 mA
Physical Characteristics
Dimensions (HxWxD) 5.0 cm x 19.0 cm x 20.5 cm (2.0" x 7.5" x 8.1")
Weight 1 kg (2.2 lbs.)
Environmental Requirements
Storage Conditions -20°C to 60°C (-4°F to 140°F) Relative humidity up to 95%, non-condensing
Operation Conditions 5°C to 40°C (41°F to 104°F) 15% to 95% humidity, non-condensing
Sensors Within physiologic range of 28°C to 42°C (82.4°F to 107.6°F) for accurate measurement
The Remmers Sleep Recorder has been approved for sale in Canada and the USA.
Notes:
(1) These are periodic and repetitive contractions of the leg during sleep. As with sleep apnea, these abnormal movements may cause a person to awaken up to hundreds of times during the night causing fatigue during the day. Periodic leg movements are more likely to occur in older patients.